---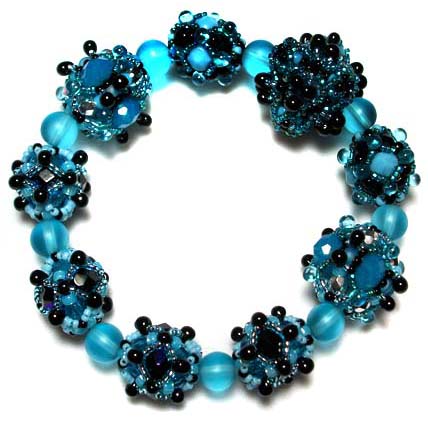 River's Time
by Sharon Wagner
Sterling Heights, Michigan
Sharon said, "Recently I made several Time Machine beaded beads, which got me to thinking that I could combine the lace overlay technique with the Ionic Polyhedra shapes (leaving out the ionic overlay). " Read more about these in this blog post.
Find the Ionic Polyhedra patterns and kits and the Time Machine patterns and kits on beAd Infinitum's Kits page.
See more of Sharon's beadwork on her new blog, Yadasi.blogspot.com, and find more photos of her work on her Facebook page, where she is known as Yadasi Beads.
All images, designs, and text on this site © 2005-2014 Florence Turnour and Gwen Fisher. Permission required for any capture or reuse.
beAd Infinitum, P.O.Box 8074, Long Beach, CA 90808