---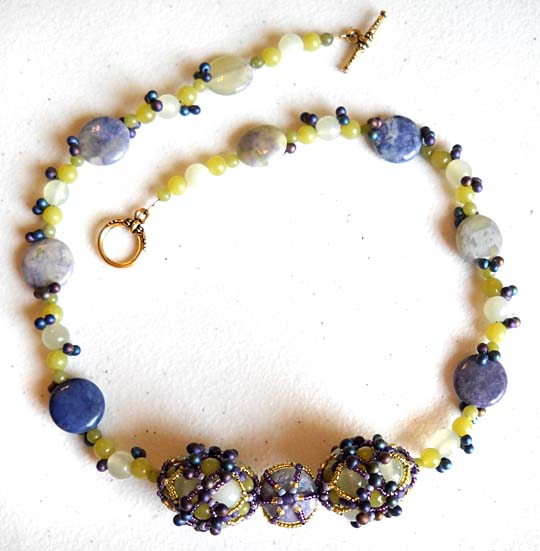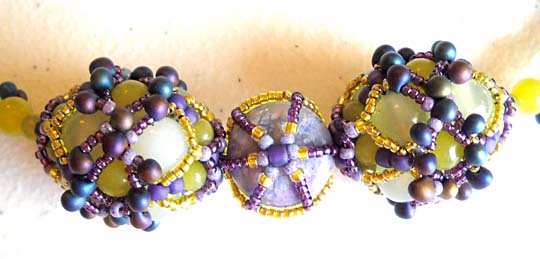 I Love Jade
by Sharon Erwine
Eaton Rapids Township, Michigan
Sharon says, "My inspiration for the colors was the package of jade coin beads that I used in this project. They are such pretty shades of lavenders and olives. I used three shades of jade rounds (8mm new jade, 6mm lemon olive, 4 mm olive), then picked some pretty green and lavender seed beads and fringe beads for the embellishments. Since I wanted the jade rounds to show through, I stopped after round 2 of the embellishments. If you want, there is yet another round of embellishment to make these beads even fancier." The Time Machines are kissing a center bead, of her own invention. Sharon embellished the jade rounds on the sides of the necklace with sets of three fringe beads matching those in the Time Machines.
Find Time Machine Beaded Bead patterns and kits on beAd Infinitum's Kits page.
See more of Sharon's beadwork on her blog SharonErwine.blogspot.com. Sharon sells patterns, kits and finished beadwork on her website http://sharonerwine.com.
All images, designs, and text on this site © 2005-2014 Florence Turnour and Gwen Fisher. Permission required for any capture or reuse.
beAd Infinitum, P.O.Box 8074, Long Beach, CA 90808