---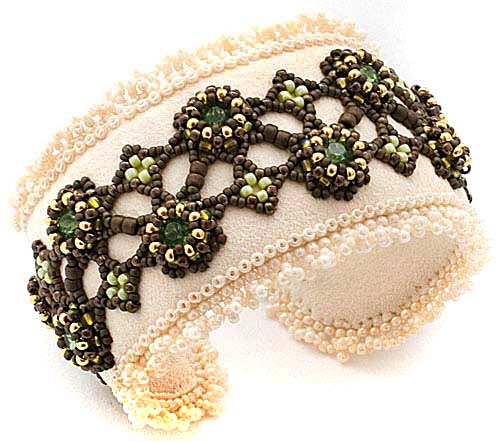 Irish Sky
by Cynthia Newcomer Daniel
Paso Robles, California
Cindy says, "I call this cuff Irish Sky because it has a nice bit of green in it, it reminds me of Irish Lace, and it's made from the Night Sky Weave pattern. I wove the pattern, then used bead embroidery stitches to attach it to a piece of ultrasuede. Then I bezeled around vintage emerald rhinestones instead of adding beads to the motifs - left a wide border around it - and gave it a lacy edging. I love this cuff! "
Find the Night Sky pattern on beAd Infinitum's Kits page.
See more of Cynthia Newcomer Daniel's beadwork, and read the stories that she writes to accompany her pieces at JewelryTales.Blogspot.com. Cindy sells beadwork and tutorial on her Etsy site (JewelryTales.Etsy.com) and on her website (JewelryTales.com).
All images, designs, and text on this site © 2005-2014 Florence Turnour and Gwen Fisher. Permission required for any capture or reuse.
beAd Infinitum, P.O.Box 8074, Long Beach, CA 90808