---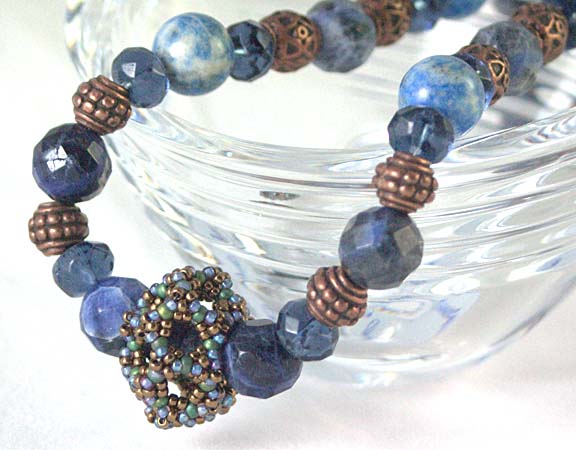 Denim Necklace
by Nancy Peterson
Effort, PA
This Infinity Donut necklace would look great with the matching Denim Earrings!

Find the Infinity Dodecahedron and Infinity Donut patterns and kits on beAd Infinitum's Kits page. The Infinity Donut pattern is a second chapter to the Infinity Dodecahedron pattern. Start with the Infinity Dodecahedron pattern to learn the Infinity Weave technique, and then choose the Donut pattern to apply the Infinity Weave to make this hollow Donut.
See more of Nancy Petersons beadwork at NPBeading.blogspot.com. Nancy sells tutorials on her Lulu site Stores.Lulu.com/NLPBeadDesign.
All images, designs, and text on this site © 2005-2014 Florence Turnour and Gwen Fisher. Permission required for any capture or reuse.
beAd Infinitum, P.O.Box 8074, Long Beach, CA 90808