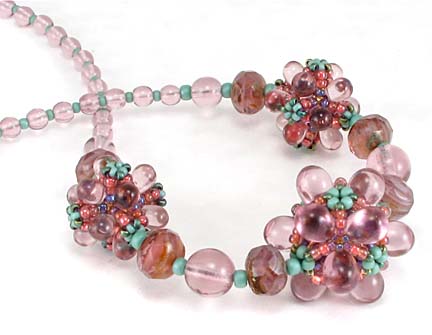 Blooming Balloon Boxes
by featured guest artist
Cindy Holsclaw

The Balloon Box focal is in full bloom in this romantic pink necklace. The beads flanking the Balloon Box are Cindy's Double Bubble Jacks. Find Cindy's pattern for the Balloon Box Beaded Bead on our Kits page.
See more of Cindy's fabulous beadwork on the world wide web:
All images, designs, and text on this site © 2005-2014 Florence Turnour and Gwen Fisher. Permission required for any capture or reuse.
beAd Infinitum, P.O.Box 8074, Long Beach, CA 90808