---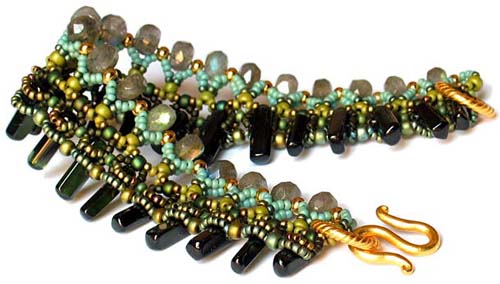 Tourmaline Sticks Bracelet
by Gwen Fisher



This bracelet is woven with dark green tourmaline stick beads and labradorite faceted roundels, glass and gold plated seed beads. The clasp is gold vermeil over sterling silver. The challenge in making this piece was keeping the sticks from pointing out this way and that. The two rounds of seed bead swags solved the problem. The thread is Fireline, which is very strong, and the weaving is highly reinforced to prevent breakage.

This piece can also be worn as a choker by removing the s-clasp and attaching a ribbon through the two rings. The bracelet comfortably fits a 6.5 to 7.25 inch wrist.

All images, designs, and text on this site © 2005-2014 Florence Turnour and Gwen Fisher. Permission required for any capture or reuse.
beAd Infinitum, P.O.Box 8074, Long Beach, CA 90808