---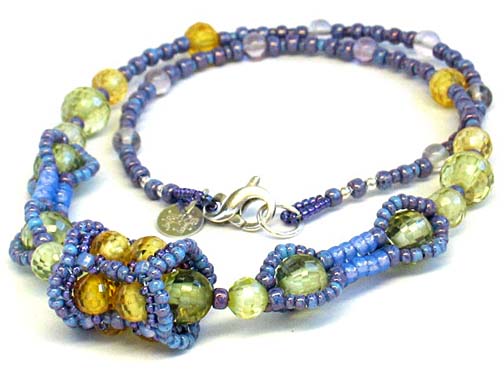 Coming of Spring Necklace
by Gwen Fisher
This strung necklace features an Hour Glassy beaded bead in the center with two easy herringbone beaded beads made with our Herringbone Cable pattern. All of the large beads in yellow and green are faceted cubic zirconia, and they sparkle like diamonds. The seed beads have a cool mottled finish which gives the piece visual texture. Find patterns for the Hour Glassy Beaded Bead and the Herringbone Cable on our Kits page.
Check out Gwen's Etsy site to see her beadwork for sale.
All images, designs, and text on this site © 2005-2014 Florence Turnour and Gwen Fisher. Permission required for any capture or reuse.
beAd Infinitum, P.O.Box 8074, Long Beach, CA 90808