---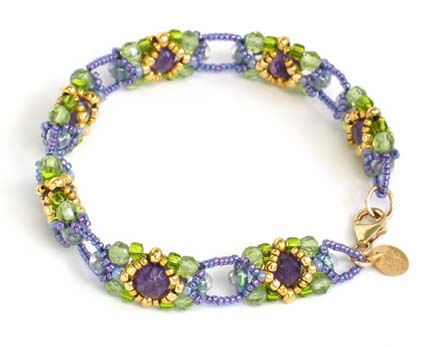 Candied Almond Drops Bracelet
by Gwen Fisher
I made this bracelet as a custom order for a friend of a friend of my mother's. I really enjoy doing custom artwork. I like the challenge of making art with someone else's color choices. In this case, green and purple is an old favorite of mine anyways. I mean, what's not to love about green and purple? Find patterns and kits for Almond Drop bracelets and earrings on our Kits page.
Check out Gwen's Etsy site to see her beadwork for sale.
All images, designs, and text on this site © 2005-2010 Florence Turnour and Gwen Fisher. Permission required for any capture or reuse.
beAd Infinitum, P.O.Box 8074, Long Beach, CA 90808