---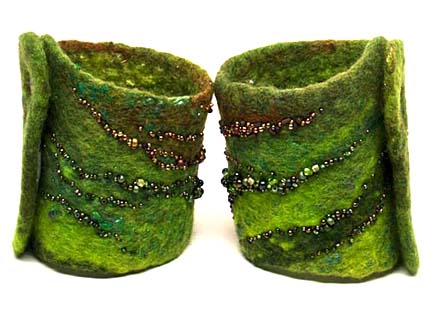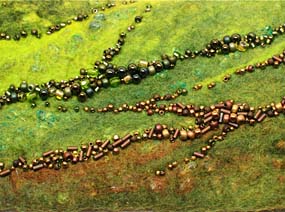 Felted Cuffs
by Gwen Fisher
This pair of textile cuff bracelets are nuno felted with a base of silk fabric and fluffy merino wool and silk fibers felted right in. They are a cross between wrist warmers and bracelets. I was inspired to make these cuffs because I always seem to have cold hands, and a bit of extra warmth at my wrists helps solve this problem.
The combination of needle felting and vigorous wet felting permanently binds the fibers together, making them much more durable than needle felting alone can ever do. To add literal and visual texture, I stitched free form bead work across the surface of each cuff with a huge variety of seed beads in matching colors. I set two metal snaps on each cuff with my professional quality snap setter. Each piece is a unique exploration in color and texture. I love the way they are both fancy and cozy.
Check out more felt cuffs in my Etsy shop; some I beaded, and some I left unbeaded so you can add your own bead embroidery.
All images, designs, and text on this site © 2005-2014 Florence Turnour and Gwen Fisher. Permission required for any capture or reuse.
beAd Infinitum, P.O.Box 8074, Long Beach, CA 90808