---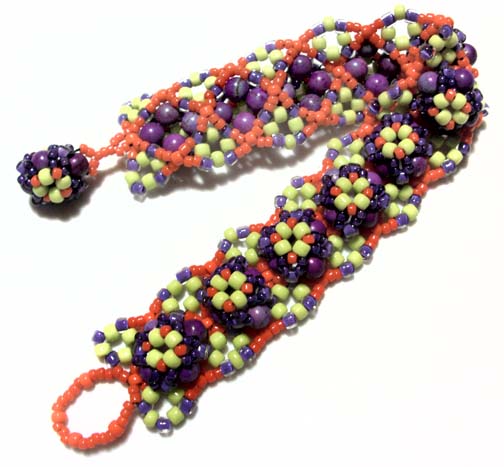 Jeanee-Rachel Star Bracelet
by Sharon Wagner
Sterling Heights, Michigan
Sharon said, "I needed a cartoon color break! I needed some joyous color. Color without multiple reflective surfaces to look at." The shiny beads were giving her headaches. "Never mind that Spring in Michigan can be wet and gray. Ack! (I now understand why designers use opaque and matte beads so much!) Thankfully, on Saturday I received the pattern Kepler's Star in the mail. The perfect excuse to switch back to OPAQUE beads for a while!" Here is what she made.
Sharon added her own touch to the Kepler's Star design, with those purple druks and the O. embellishments (after Rachael Nelson-Smith's fameous Oothecal design). Find the unembellished version of Kepler's Star patterns and kits on beAd Infinitum's Kits page.
See more of Sharon's beadwork on her new blog, Yadasi.blogspot.com, and find more photos of her work on her Facebook page, where she is known as Yadasi Beads.
All images, designs, and text on this site © 2005-2014 Florence Turnour and Gwen Fisher. Permission required for any capture or reuse.
beAd Infinitum, P.O.Box 8074, Long Beach, CA 90808