---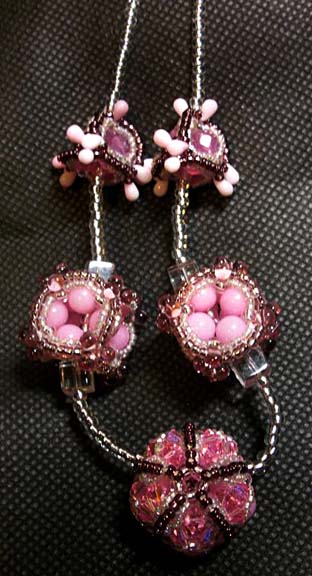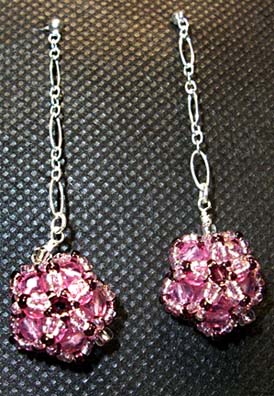 Ionic Polyhedra Necklace and Earrings
by Sharon Wagner
Sterling Heights, Michigan
Sharon said, "These are, from the top down, Ionic Tetrahedra, Ionic Octahedra and an Ionic Pentacluster. The Ionic Pentacluster is done with my own embellishment variation adding crystal clusters over the holes. But I couldn't stop there....no, I had to have some earrings too. Lovely little Lacey Pentaclusters. They have only one layer of embellishment and hang from light silver chain on studs." Read more about these on her blog: http://yadasi.blogspot.com/2011/02/to-infinity-and-beyondits-ionic.html
Find the Ionic Polyhedra patterns and kits on beAd Infinitum's Kits page. The Infinity Prism Pattern includes instructions for both of the beads featured here.
See more of Sharon's beadwork on her new blog, Yadasi.blogspot.com, and find more photos of her work on her Facebook page, where she is known as Yadasi Beads.
All images, designs, and text on this site © 2005-2014 Florence Turnour and Gwen Fisher. Permission required for any capture or reuse.
beAd Infinitum, P.O.Box 8074, Long Beach, CA 90808