---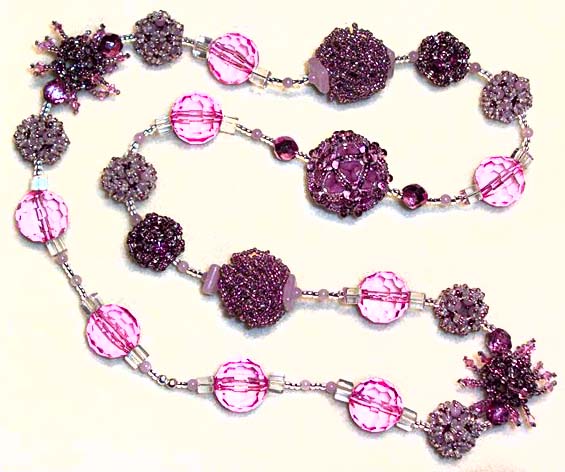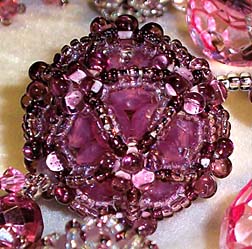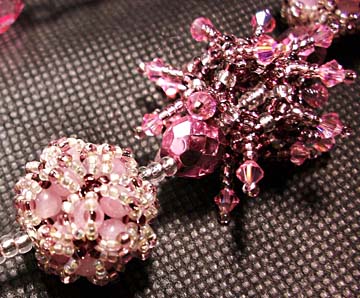 Infinity Dodecahedra
by Sharon Wagner
Sterling Heights, Michigan
Sharon said, "Here you can see the results of my playing with the Ionic Polyhedra pattern. This pattern has multiple geometric forms to really challenge you! I had to include some Infinity Dodecahedra with variations of my own. The necklace above incorporates Infinity Dodecahedra with crystal tipped fringe, Infinity Dodecahedra with multiple over lapping loops, Infinity Dodecahedra with captured 8mm Czech fire polished crystals, an Ionic Icosahedron (largest beaded bead) and 6 Lacey Cuboctahedra (my variation with only one layer of embellishment). This is a long piece, 35 inches total." Read more about this piece on her blog: http://yadasi.blogspot.com/2011/02/to-infinity-and-beyondits-ionic.html
Find the Infinity Dodecahedron and the Ionic Polyhedra patterns and kits on beAd Infinitum's Kits page.
See more of Sharon's beadwork on her new blog, Yadasi.blogspot.com, and find more photos of her work on her Facebook page, where she is known as Yadasi Beads.
All images, designs, and text on this site © 2005-2014 Florence Turnour and Gwen Fisher. Permission required for any capture or reuse.
beAd Infinitum, P.O.Box 8074, Long Beach, CA 90808