---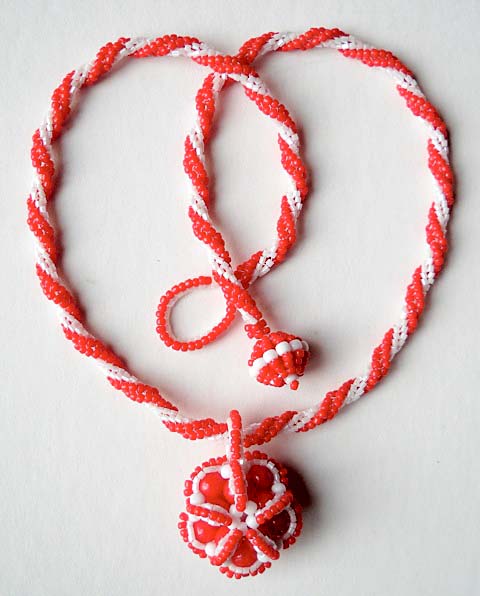 Pepermint Dreams / Valentine
by Sharon Erwine
Eaton Rapids Township, Michigan
Sharon says, "This is a 10 sided beaded bead from the Ionic Polyhedra pattern. I left off the drop beads at the corners to allow the eye to probe into the shape, and made an additional embellishment strip to form a bail. Then I completed the necklace with a twisted herringbone rope and a Spinning Top bead for the clasp. I think I will make two more Spinning Tops for earrings."
Find Ionic Polyhedra patterns and kits on beAd Infinitum's Kits page. You can also download the free Spinning Top Beaded Bead Pattern.
See more of Sharon's beadwork on her blog SharonErwine.blogspot.com. Sharon sells patterns, kits and finished beadwork on her website http://sharonerwine.com.
All images, designs, and text on this site © 2005-2014 Florence Turnour and Gwen Fisher. Permission required for any capture or reuse.
beAd Infinitum, P.O.Box 8074, Long Beach, CA 90808