---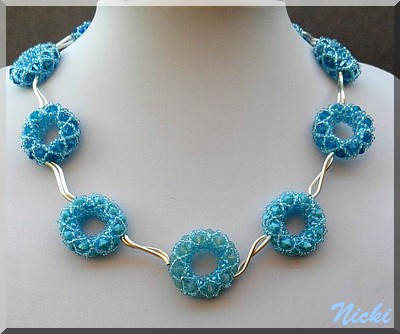 Ring Nebula Necklace
by Nicki (Immer-wieder-Perlen)
Allerheiligen im Mürztal/Styria/Austria
Nicki says, "I used 4mm Swarovski Bicone in 5 colours of blue/turquoise. When the rings were finish the reminded me on the sea! So it got the name "Deep Sea". Between the rings are some wavy beads in silver." I like the various shades of light blue she uses in the rings.
Find the Ring Nebula on beAd Infinitum's Kits page.
See more of Nicki's beadwork at http://immer-wieder-perlen.blogspot.com/ and in her Picasa Album http://picasaweb.google.com/Nicki.Gen.
All images, designs, and text on this site © 2005-2014 Florence Turnour and Gwen Fisher. Permission required for any capture or reuse.
beAd Infinitum, P.O.Box 8074, Long Beach, CA 90808