---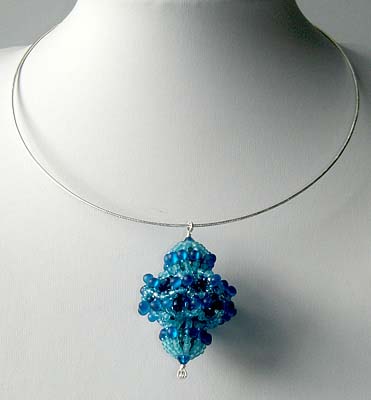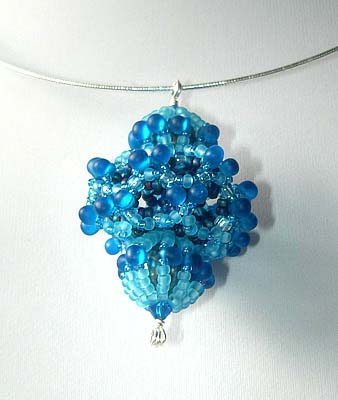 Pagoda Pendant
by Nicki (Immer-wieder-Perlen)
Allerheiligen im Mürztal/Styria/Austria
Nicki says,"I used the pattern for the Infinity Donut in combination with the free pattern for the Spinning Top, so it looks like a little pagoda! I used blue beads because blue is one of my favorite colours, and it reminds me of the sea. And why I made a pendant which looks like a pagoda? I love oriental designs and shapes, and so I combined one of my favorite colours and favorite shape! Perfect!"
Find the Infinity Donut patterns and kits and the free pattern for the Spinning Top Beaded Bead on beAd Infinitum's Kits page. The Infinity Donut pattern is a second chapter to the Infinity Dodecahedron pattern. Start with the Infinity Dodecahedron pattern to learn the Infinity Weave technique, then get the Infinity Donut pattern to make the enchanting bead you see here.
See more of Nicki's beadwork at http://immer-wieder-perlen.blogspot.com/ and in her Picasa Album http://picasaweb.google.com/Nicki.Gen.
All images, designs, and text on this site © 2005-2014 Florence Turnour and Gwen Fisher. Permission required for any capture or reuse.
beAd Infinitum, P.O.Box 8074, Long Beach, CA 90808