---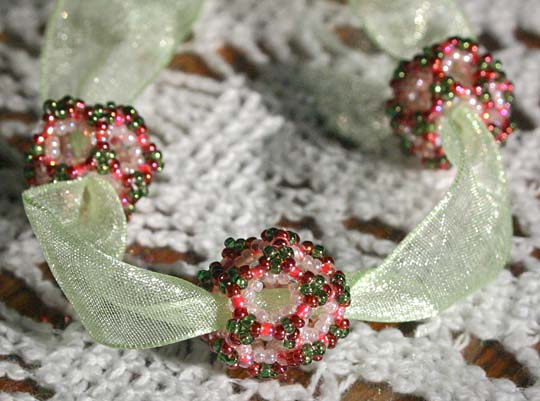 Rose Garden
by Nancy Peterson
Effort, PA
On her blog, Nancy says,"I have seen so many lovely necklaces made with ribbon lately that I wanted to give it a try. For this one, I made three Infinity Dodecahedron beaded beads in shades of pink with touches of green. I strung them on an 18" piece of organza ribbon. The dodecahedron beaded bead gives it such a delicate feel. With all the snow we've been getting, I must have spring on my mind!"

Find the Infinity Dodecahedron pattern and kits on beAd Infinitum's Kits page.
See more of Nancy Petersons beadwork at NPBeading.blogspot.com. Nancy sells tutorials on her Lulu site Stores.Lulu.com/NLPBeadDesign.
All images, designs, and text on this site © 2005-2014 Florence Turnour and Gwen Fisher. Permission required for any capture or reuse.
beAd Infinitum, P.O.Box 8074, Long Beach, CA 90808