---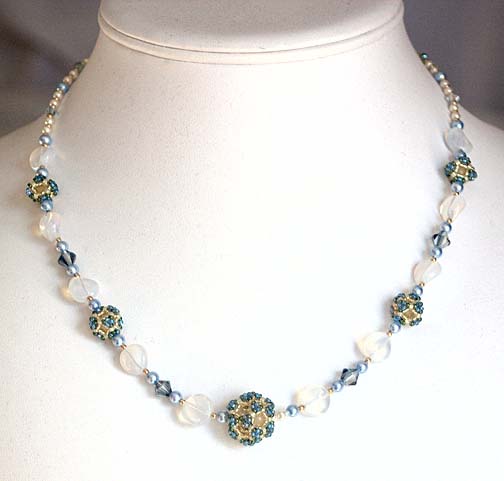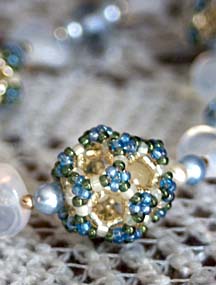 Morning Bluebonnets
by Nancy Peterson
Effort, PA
On her blog, Nancy says,"For this month's design challenge for Bead Infinitum, I chose the Infinity Dodecahedron pattern. This pattern from Gwen Fisher and Florence Turnour really offers a lot of adaptability. I love small things. I started off with the smallest bead option listed on the pattern, 11/0's and 15/0's. You can also adjust the scale of your beaded bead by which beads you use. This pattern can also be made with 6/0's and 8.0's or even 3 mm fire polish."

"After practicing the pattern to get the feel for how the beads work together, I jumped in with a light center of white and gold. For the surface embellishment, I used blue and green beads. For the accent beads, I made cubes and strung them diagonally. I had some vintage white chip beads that I bought a few years ago when we were visiting my sister-in-law in Florida. I love how light and airy and delicate the necklace came out."
Find the Infinity Dodecahedron pattern and kits on beAd Infinitum's Kits page.
See more of Nancy Petersons beadwork at NPBeading.blogspot.com. Nancy sells tutorials on her Lulu site Stores.Lulu.com/NLPBeadDesign.
All images, designs, and text on this site © 2005-2014 Florence Turnour and Gwen Fisher. Permission required for any capture or reuse.
beAd Infinitum, P.O.Box 8074, Long Beach, CA 90808