---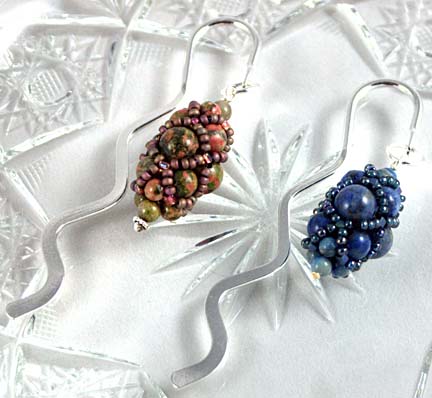 Diamond Net Bead Bookmark
by Nancy Peterson
Effort, PA
Nancy says,"My husband's grandmother is turning 101 and I loved Cindy's idea so much that I decided to make her a beaded bead bookmark using the Diamond Net bead. The blue one incorporates lapis and the other unakite. I love how the semi-precious adds to the beauty of these beads."
Find the Diamond Net Bead patterns and kits on beAd Infinitum's Kits page. The Diamond Net Bead is a great choice for a beginner wanting to give beaded beads a try.
See more of Nancy Petersons beadwork at NPBeading.blogspot.com. Nancy sells tutorials on her Lulu site Stores.Lulu.com/NLPBeadDesign.
All images, designs, and text on this site © 2005-2014 Florence Turnour and Gwen Fisher. Permission required for any capture or reuse.
beAd Infinitum, P.O.Box 8074, Long Beach, CA 90808