---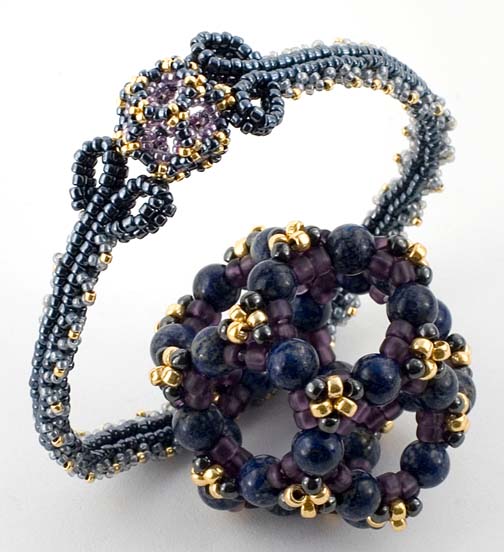 Balancing Act Bangle
by Cynthia Newcomer Daniel
Paso Robles, California
Cindy says, "This bracelet is a variation on my Balancing Act Bangle (tutorial available in Shop at JewelryTales.com) using a dodecahedron bead as a focal. I couldn't resist photographing it with the giant dodecahedron that is currently functioning as a paperweight, since I don't know any giantesses who need bangles."
Find the Infinity Dodecahedron pattern and kits at beAd Infinitum.
See more of Cynthia Newcomer Daniel's beadwork, and read the stories that she writes to accompany her pieces at JewelryTales.Blogspot.com. Cindy sells beadwork and tutorial on her Etsy site (JewelryTales.Etsy.com) and on her website (JewelryTales.com).
All images, designs, and text on this site © 2005-2014 Florence Turnour and Gwen Fisher. Permission required for any capture or reuse.
beAd Infinitum, P.O.Box 8074, Long Beach, CA 90808