---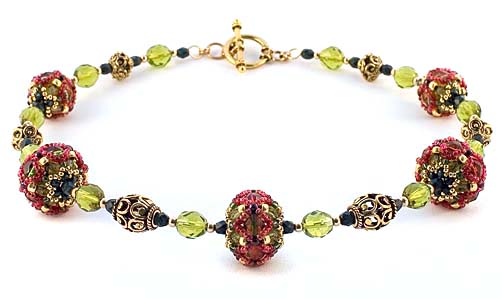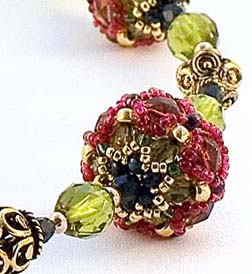 Rose Garden
by Cynthia Newcomer Daniel
Paso Robles, California
Cindy says, "How could I not think of roses while making the Double Rose Window? This necklace was inspired by the classic Valentine's gift of dark red roses. I added gold-filled beads, jet picasso and green fire polish beads, and strung it on memory wire to keep the shape circular."
Find the Double Rose Window pattern and kits on beAd Infinitum's Kits page.
See more of Cynthia Newcomer Daniel's beadwork, and read the stories that she writes to accompany her pieces at JewelryTales.Blogspot.com. Cindy sells beadwork and tutorial on her Etsy site (JewelryTales.Etsy.com) and on her website (JewelryTales.com).
All images, designs, and text on this site © 2005-2014 Florence Turnour and Gwen Fisher. Permission required for any capture or reuse.
beAd Infinitum, P.O.Box 8074, Long Beach, CA 90808