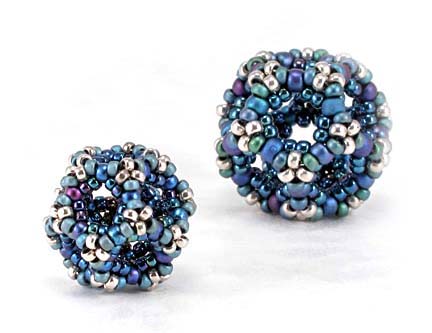 Infinity Dodecahedra
by featured guest artist
Cindy Holsclaw

The Infinity Dodecahedra enjoy the same symmetry as Cindy's Circle Starburst beaded bead. Cindy made the larger bead with 8/0s and 11/0s, and the smaller one with 11/0s and 15/0s.
Find the pattern for the Infinity Dodecahedron on our Kits page.
See more of Cindy's fabulous beadwork in her Etsy shop!
All images, designs, and text on this site © 2005-2014 Florence Turnour and Gwen Fisher. Permission required for any capture or reuse.
beAd Infinitum, P.O.Box 8074, Long Beach, CA 90808